SOLOS
now with video demonstrations on each page !
88 excersises
to help you
Master your Scales

---
Developing solos?
It`s just like bodybuilding
You don`t stay at the same weights forever
Once you can do 8 reps 3 times easily
you move on to heavier weights

It`s the same with scales!
Stay with one exercise
you won`t improve.

You have to increase the complexity
to develop your skill level.



---
These exercises will :-

1. Enhance the co-ordination of the two hands.
2. Expand your scalar awareness.
3. Harness your timing.
4. Help you emulate solos quicker and easier

You will have their ability under your fingertips.

Look........................ this takes time.
* I can do it !
* Be in competition with me and all the other fluent guitarists!
* There is always space for those who are different....at the top!
* It's only hard work that separates poor players and great ones!
* Don't waste your effort by going too fast at the beginning.
* Apply this technique to each scale
* Examples accompany each scale page
* Good luck
REMEMBER
Stand up and use a plectrum as you practice each excersise.
that`s what you are going to do on stage!
sit down and:-

* you`ll be resting your elbow somewhere
* your left arm will become weak and need constant support
* the plectrum hand will always be in the wrong position
---

Major Scale Excersises
to become fluent in your Major Scales
apply these 22 excersises
---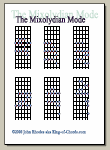 Mixolydian Mode Excersises
to become fluent in your Mixolydian Modes
apply these 22 excersises
---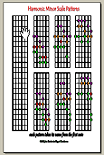 Harmonic Minor Scale Excersises
to become fluent in your Harmonic Minor Scales
apply these 22 excersises
---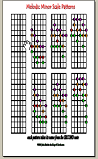 Melodic Minor Scale Excersises
to become fluent in your Melodic Minors
apply these 22 excersises
---

Solos: back to the top of this page