Chord Progression of the Month 3

---
Huey Lewis and The News
"The Power of Love"
The middle section of this song will be analyzed this month.
The Intro, Verses and Choruses are in a variety of C Minor Modes.
The Middle shifts into Eb Lydian(Bb) and Eb Major
with secondary dominants (G7/D, G7sus4 and G7) preceding the C minor chords.



Eb is the first chord of this section.It could of been any chord.
Eb helps it to relate to Cm ( the key of the rest of the song ) The relative minor of Eb is Cm.
More ideas like this can be heard from bands like The Rasmus and Hymm.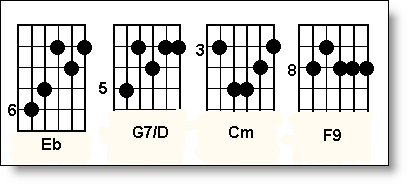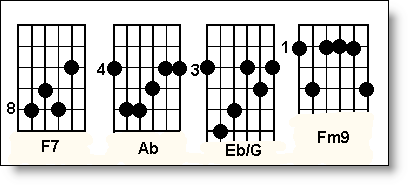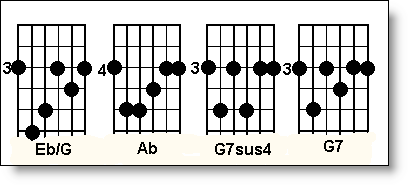 In chord progression of the month #4 "Purple Rain"
---
What's a Secondary Dominant?
Chords like to fall in 5th's.
When a chord is a 5th higher than the next chord
It may become a major chord or a 7 type chord
or a 7 type chord with altered notes
these altered notes (# or b 5ths and/or 9ths) may be derived from the key you are in.
Gm7 is a 5th higher than Cm
so it may become G G7 G7sus4 G7b5 G7+ G7b9 G7#9 etc etc etc
that is why G7/D and G7sus4 appear in the progression above
they were Gm7's originally.
"Sultans of Swing" has a memorable one.
Probably chord progression of the month #5