yo


Five elements that generate great bass lines
1. Play the root of the chord
2. Play the root followed by the notes of the chord
3. Play the root followed by the notes of the scale
4. Use a pentatonic scale for each chord
5. Walking bass lines
What about guitar playing? well I,m sure this is gonna be very helpful
Understanding how a bass line functions is crucial if you want to transcribe the chords of a song.
The bass line will help you calculate the chord progression
as you become aware of its supporting role.

get your mp3 tracks by clicking the graphic below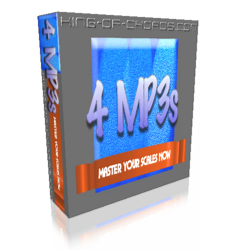 1 Playing the root of the chord
Bass players can get maximum mileage by simply playing the root of the chord during each bar.

What's the root?

It's the name of the chord!

For Cmaj7 just play C

For Cm7 just play C

For C7 just play C

For Cmaj7+11 just play C

For Bbmaj7 just play Bb

For Fm7 just play F

For A7 just play A

For Gmaj7+11 just play G

possible progression and bassline:

chords || G / / / | Am / / / | C / / / | D / / / ||

bassline || G / / / | A / / / | C / / /| D / / / ||

if you are aware that the bass is playing a G on beat 1 of bar 1

then you've got to try a G chord first.

what are you going to try if you're not listening to the bass?

beats me!

By playing the root of the chord the chord is supported perfectly.

Of course there's a couple of levels to this concept.

Determine the note played by the bass on the first beat of the bar and you have the root of the chord.

Now play a selection of chords based on that root along with the track and you'll be able to finish the track sooner.

It's easier doing it this way than trying to hear the guitar on the track.
2 Displaced roots
All rules are just waiting to be broken!

Any note that appears in the chord may replace the root.

If your choice of chord over the bass line is sounding wrong it's more likely to be a displaced root chord than a lack of chord vocabulary.

Imagine that this progression :

chords

|| G / / / | Am / / / | C / / / | D / / / ||

bassline:roots

||G / / /|A / / /|C / / /|D / / /||

bassline:thirds

|| B / / / | C / / /| E / / /| F# / / /||

bassline:fifths

|| D / / / | E / / /| G / / /| A / / / ||

bassline:sevenths

|| F# / / / | G / / / | B / / /|C / / / ||

The first note of bar 1 could be the root or the 3rd, the 5th, the 7th.

G or G/B or G/D or G/F# (G/F# would sound awkward first time)

The first note of bar 2 could be the root or the b3rd, the 5th, the b7th.

Am or Am/C or Am/E or Am/G

The first note of bar 3 could be the root or the 3rd, the 5th, the 7th.

C or C/E or C/G or C/B

The first note of bar 4 could be the root or the 3rd, the 5th, the b7th.

D or D/F# or D/A or D/C

never heard displaced roots before?

Tears in Heaven

|A E/G#|F#m F#m7/E|D/F# E7sus4 E7|A ///|

bar 1 root of A, 3rd of E

bar 2 root of F#m, b7 of F#m7

bar 3 3rd of D,root of E7sus4,root of E7

bar 4 root of A

Next: - the root plus more notes


click below and go to Worldphonic listen to my latest tracks